Upgrade your outdoor living with our bespoke high quality solutions!
Atlanticbike produces bespoke secure timber and metal solutions, all under a living eco green roof.
We pride ourselves on delivering the highest quality most secure ecological urban living and storage solutions tailored to your space and aesthetics.
From garden rooms, sheds, garages, parking and green spaces, we enable our customers to upgrade their lives with the solutions of their choice. We can design and build to your exact space, spec and taste.  
All of our products are hand-built in the UK, to ensure the best possible quality.
Let us build your dream solution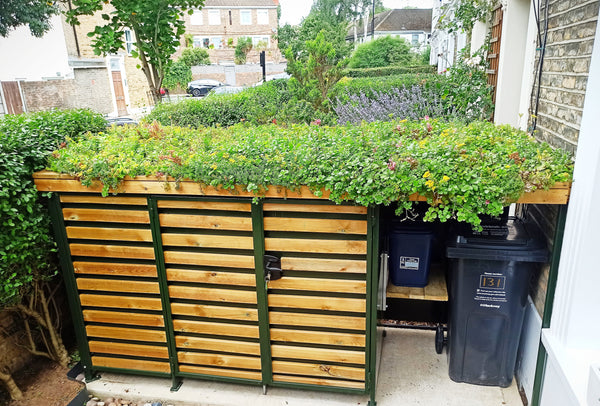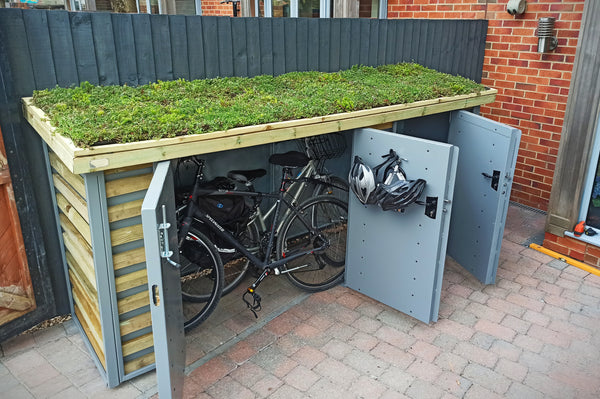 Declutter your house and garden with our secure bike sheds
We design and build your extra storage to protect your bike from the natural (and human) elements.
With easy access, high level of security, camouflaged under a green roof - our attractive bike sheds save you from dragging your bikes through the house, and give you space and peace of mind.
Get in touch for a quote
Large green roof structures
Atlanticbike designs and manufactures bespoke structures for your outdoor living and storage needs.
Garden rooms, offices, man caves, garages, large storage solutions - we can design and build them for you!
Our green roofs not only add life and colour to these structures but also keep them cool and increase your well-being.
Get in touch for a quote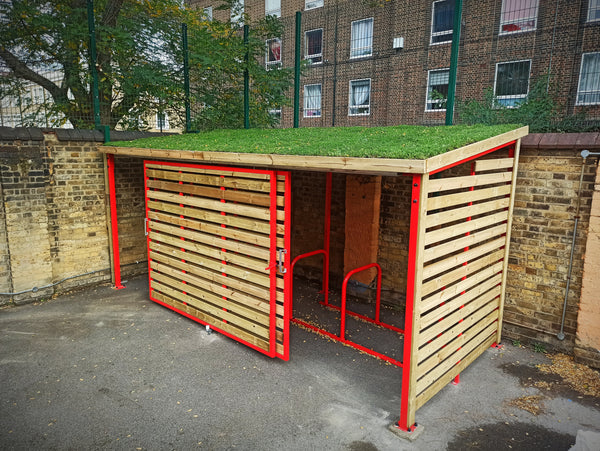 Urban Living Solutions - Green Spaces and Street Furniture
Atlanticbike designs and manufactures bespoke structures for public, school, corporate, small businesses and local authority clients.
We are proud to deliver the future in urban living and play a part in rebuilding our towns and cities.
Our custom made street furniture, public spaces, urban greening, parklets, shelters and bicycle parking solutions, are built right here in the UK. 
Get in touch for a quote

OUR PRODUCT BENEFITS
DURABLE:
At Atlanticbike, we believe in creating long lasting premium products.
Our innovative line of products features a strong galvanised metal frame and body and treated timber cladding.
SECURE:
Our secure storage solutions are built with a powder coated welded metal frame and hinges, no visible bolts and nuts and a galvanized roof and are fitted with a high-security grade Locinox lock.
ECOLOGICAL:
A green roof has many benefits at economic, ecological and societal levels.
It provides a rainwater buffer, purifies and cools the air,  increases the value of your property and decreases your stress levels.
With a green roof you add happiness to your life and everyone passing by - people are happier in a green environment more than in grey surroundings. 
CUSTOM BUILT:
We love to customize - every potential space is different, so why should the products be the same?
We provide you with options and manufacture the perfect product for your space in the shape, size, material and colour of your choice.
Our Testimonials
We recently had a bike and bin storage unit installed by Atlanticbike and we can say with all honesty, it surpassed our very high expectations! The custom built unit was made to measure to a precise set of specifications, both in terms of the different compartments within the unit, but also noting the rather awkward shape of front garden it had to fit into.

Felicity Linehan
We worked with Jose and his team to design and build a bespoke bike and bin storage unit for our home in East London. The whole experience was brilliant, and we are very proud of the end product. Jose runs a very personal service and he was a delight to work with. His attention to detail and concern over quality and finish are really impressive. And it shows in the results. Highly recommended.

Toby Southgate
Really impressed Atlanticbike, The team was really helpful and engaged in ensuring the design worked well within the space available and to maximise the storage we wanted. Product looks beautiful and a real addition to the front of the house, sedum roof has drawn many compliments and it's not yet in full bloom.


Sara Podmore
Excellent company, very clear, fast responses and communication. Very professional on installation and the finished product is absolutely gorgeous. We are delighted with the service and highly recommend Atlanticbike.

Nyasha Weinberg